Eric Snook, DVM, PhD, DACVP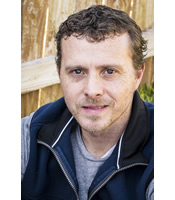 Board Certification
American College of Veterinary Pathologists (ACVP) Anatomic Pathology, 2009

Education
PhD in Biomedical Sciends/Pathology, Tulane Unversity, 2013
Residency in Anatomic Pathology, Louisiana State University, 2009
Internship in Emergency Medicine/Critical Care, Mesa Veterinary Hospital, 2003
Doctor of Veterinary Medicine (DVM), ISU, 2002
Bachelor of Arts (BA), Biology, Fresno Pacific University, 1997

Current Professional Activities
Anatomic Pathologist, Texas A&M Veterinary Diagnostic Laboratory
Past Professional Activities
Private practice: general practice and emergency

Marital Status
Married to Tara Snook, DVM

Children
Taylor, born 2007
Michaela, born 2010
Corban, born 2014
Pets
Hobbies
I love photography, particularly wildlife and nature photography, but have little time lately to pursue it.

Favorite Quote
Job 12:7-10 "In his hand is the life of every creature and the breath of all mankind."

What I like Most About VIN
The VIN community is incredibly collegial and collaborative. Everyone works together to achieve a common goal.