Leslie A. Lyons, BS, MS, PhD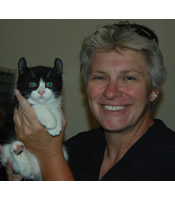 Board or Specialty Certification
Short course on Medical and Experimental Mammalian Genetics, Jackson Laboratory, Bar Harbor, Maine - 1987
Feline Genetics and Health for Cat Breeders, Cornell University - 1992
American Association of Laboratory Animal Science (AALAS) Laboratory Animal Technician - 1993
Advanced Linkage Analysis, Columbia University - 1995

Education
Post-Doctoral Fellow in Feline Genetics (Mentor - Stephen J. O'Brien, PhD), Laboratory of Viral Carcinogenesis, National Cancer Institute, Frederick, MD, 1992-1996
Post-Doctoral Fellow in Human Genetics (Mentor - Robert E. Ferrell, PhD), University of Pittsburgh, Graduate School of Public Health, Pittsburgh, PA, 1991-1992
PhD Human Genetics, Human Genetics Dissertation: Resolution of the two designated loci, AN1 and AN2, for autosomal aniridia by linkage analysis with chromosome 2p and 11p13 markers. (Mentor - Robert E. Ferrell, PhD), Graduate School of Public Health, University of Pittsburgh, Pittsburgh, PA, 1987-1991
MS Human Genetics, Thesis: Exclusion mapping of Gardner syndrome when expressing congenital hypertrophy of the retinal pigment epithelium (CHRPE). (Mentor - Robert E. Ferrell, PhD), Graduate School of Public Health, University of Pittsburgh, Pittsburgh, PA, 1985-1987
BS Biochemistry, University of Pittsburgh, College of Arts and Sciences, Pittsburgh, PA, 1981-1985

Current Professional Activities
Research focuses on genetic aspects of domestic cats, including inherited diseases, traits and population dynamics, which are implied to genetic disease studies, translational medicine, genetic testing, and forensic applications. The Lyons laboratory maintains a research colony of cats with genetic traits and has a variety of projects with veterinary clinicians to define and describe heritable diseases and traits. Over a dozen disease models are under investigation, including hypertrophic cardiomyopathy, amyloidosis, lymphosarcoma, dwarfism, Ehlors-Danlos Syndrome and a model for trigeminal neuralgia.

Past Professional Activities
Lyons Laboratory has identified sixteen cat biomedical models including 3 forms of retinal degeneration, polycystic kidney disease in both Pallas Cats and domestic cats, a model for osteoarthritis, three metabolism disorders, two neuromuscular diseases, an autoimmune proliferative disorder, two models for skeletal axial development and a craniofacial development model. In addition, two mutations for cat blood type and 14 variants affecting pigmentation and hypo- and atrichia have been identified. Overall, the laboratory has identified 35 cat variants in 24 different genes, which is approximately 50% of all identified cat mutations.

Honors, Awards, and Fellowships
Phi Eta Sigma, University of Pittsburgh, Freshman GPA 3.5 or higher, 1982
Graduate Student Representative, GSPH, 1987-1991
Doctoral Student Organization, GSPH, 1990-1991
Undergraduate mentoring award, nominated, 2001
Chancellor's Research Award, nominated, 2007
Chancellor's Research Award, nominated, 2008
AVMF/Winn Feline Foundation Research Award, 2011
National Alliance of Burmese Breeders, Recognition of outstanding research, 2012
Humanitarian Award, American Cat Fanciers' Association, 2012
Special Interests
Forensic applications of feline genetics, cat domestication

Memberships
1985-present, Member, American Society of Human Genetics (ASHG)
1992 - present, Member, International Society of Animal Genetics (ISAG)
1992 - present, Member, Comparative Mapping Committee, International Equine Genome Workshop
2004-present, Co-Chair, Applied Genetics in Companion Animals Working Group, ISAG
2009-2014, Chair, Cat & Dog Genetics Workshop, Plant & Animal Genomics
2011-present, Member, Genetics Society of America
2012 - present, Co-Chair, Companion Animal Genetics & Genomics Workshop, ISAG

Editorial Boards
2007-present, Journal of Feline Surgery & Medicine
2011-present, Animal Genetics
2014-present, Genome
Current Research/Clinical Interests
Hypertrophic cardiomyopathy, amyloidosis, lymphosarcoma, dwarfism, Ehlors-Danlos Syndrome, and oral facial pain
What I like Most About VIN
It's networking capability.