Erica Reineke, VMD, DACVECC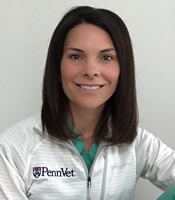 Board or Specialty Certification
2007 - Diplomate of the American College of Veterinary Emergency and Critical Care (ACVECC)
Education
1998 - Bachelor of Science, Washington and Lee University
2002 - VMD, University of Pennsylvania School of Veterinary Medicine
2003 - Internship in Small Animal Medicine and Surgery, University of Pennsylvania School of Veterinary Medicine
2007 - Residency in Emergency and Critical Care Medicine, University of Pennsylvania School of Veterinary Medicine
Current Professional Activities
Associate Professor of Emergency and Critical Care Medicine, University of Pennsylvania School of Veterinary Medicine
Trauma Center Director
Past Professional Activities
2003-2004, Emergency Associate Veterinarian, Red Bank Veterinary Hospital, Red Bank, NJ
Honors, Awards, and Fellowships
PennVet Excellence in Teaching Award - 2016
Small Animal Resident Abstract Award, 12th International Veterinary Emergency Critical Care Symposium - 2006
Phi Zeta National Veterinary Honor Society
Memberships
American Veterinary Medial Association (AVMA)
Veterinary Emergency Critical Care Society (VECCS)
Pennsylvania Veterinary Medical Association (PVMA)
Current Research/Clinical Interests
My research and clinical interests involve the stabilization and treatment of the emergent and critically ill patient. Specific research interests include treatment strategies in feline urethral obstruction, shock (lactate, shock index and fluid therapy), trauma, and minimally invasive diagnostic testing including glucose monitoring and the use of emergency ultrasound.
Relationships
I am married to my husband Sean and we have 2 sons, Robert (8 yo) and Kevin (6 yo)
Pets
Hobbies
When I am not playing Pokémon with my boys, I am catching up on sleep and traveling!
Favorite Book
Far Pavilions by M. M. Kaye
Favorite Quote
"It is impossible to live without failing at something, unless you live so cautiously that you might as well have not lived at all, in which case, you have failed by default." - J. K. Rowling
"The secret of being happy is accepting where you are in life and making the most out of every day."
What I like Most About VIN
The amount of knowledge available at our fingertips any time of day or night! The VECCS/VIN webinars.